A hospital's inner workings are highly complicated. Communication among medical personnel is essential, and a small mistake can lead to dire consequences for patients.
According to Forbes, medical malpractice is a major problem. Victims recovered more than $3 billion in 2012 alone.
However, proving malpractice is a legally complex process. It often requires expert testimonies, independent medical examinations and comprehensive evidence.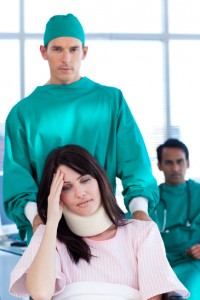 If you or a loved one was the victim of a medication error, surgical mistake or another form of medical malpractice in Texas, contact the Robson Law Firm. Mr. Robson is an Austin personal-injury lawyer who can help you navigate the legal system. Our firm has recovered more than $26 million for our clients.
Call 512-345-8200 to schedule a consultation. You can also visit www.USAttorneys.com to learn more about medical malpractice claims.
Here are five tips that can help patients prevent medical malpractice:
1. Ensure all medical personnel wash their hands before touching you.
The Agency for Healthcare Research and Quality explains the importance of proper handwashing in a medical environment. It remains one of the most effective ways to prevent the spread of dangerous germs, including bacteria that are resistant to antibiotics. You have the right to ask medical professionals to wash their hands before touching you, and you can request that they wear fresh, clean latex gloves.
2. Open communication channels between all of your medical providers.
Several nurses and doctors look after each patient. It is vital that all of them know exactly what treatment you are receiving.
Many mistakes happen because of simple miscommunication. You can reduce this risk if you ensure that your surgeon, primary care physician and attending nurses communicate with one another.
3. Request that your primary care physician oversees your entire hospital stay.
Putting your primary care physician in charge is wise for several reasons, the most important of which is his or her knowledge of your medical history, current ailments, allergies and medicine requirements. Hospital staff might overlook these without him or her there to oversee your stay.
4. Find a hospital that specializes in treating your particular condition.
Although this is not always possible, try to choose a hospital that has a positive reputation for treating your specific condition. You should discuss this with both your primary care doctor and surgeon.
You can also do some research online. If, for example, you require brain surgery, then you may feel safer in the care of renowned neurology experts with state-of-the-art technology.
5. Plan your recovery before going to the hospital.
Many patients do not receive adequate discharge instructions. They leave the hospital without understanding what to expect during recovery.
You may have to take medications, schedule follow-up appointments, restrict your activities, limit foods or change dressings. Before leaving the hospital, make sure you know exactly how to care for yourself at home, and make necessary preparations in advance.
If medical malpractice is to blame for your health concerns, contact the Robson Law Firm. An Austin medical malpractice attorney can investigate your condition, collect evidence and guide you through the claims process. We have been representing the injured for more than 20 years. Call 512-345-8200 to schedule a free initial consultation.