A slip and fall can have devastating consequences – ranging from broken bones to paralysis. In fact, falls are responsible for 21 percent of paralyzing injuries, according to Brain and Spinal Cord. Victims often cannot return to work, and the medical bills can cost a veritable fortune.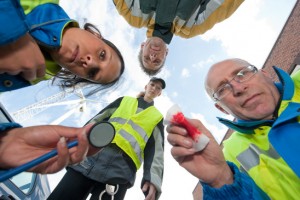 If you were injured in a slip and fall, contact the Robson Law Firm. A personal-injury lawyer in Austin can assess your case to determine if you may have grounds for a claim. We have recovered more than $26 million for our clients.
Call 512-345-8200 to schedule a free initial consultation. You can also learn more about personal-injury laws in Texas by visiting personal-injury.usattorneys.com/texas.
Here are four tips that can strengthen your claim after a slip and fall:
1. Bag Your Shoes
According to the National Floor Safety Institute, floor materials are responsible for more than 2 million falls every year. In most settings, floors should consist of non-slip materials that are compatible with most shoe soles.
Property owners often deny liability after a slip and fall. Sometimes they argue that the defendant's shoes contributed to the incident.
After a slip and fall, you should bag your shoes and store them safely. Do not dispose of them or wear them until your claim has been resolved.
2. Photograph the Area
Quality photographs are valuable in any personal-injury case. Use your cell phone to take pictures of the area where you fell.
Take wide and panoramic shots of the entire scene. Also, take pictures of the hazard that caused your fall, such as a broken handrail or spilled liquid. Try to include landmarks such as the store's name or other clues that make identification easier.
In slip and fall cases, photographs play a particularly important role. It is impossible to preserve the actual scene. The property owner is likely to repair the hazard, but your photographs may help your personal-injury lawyer prove negligence and liability.
3. Report the Incident
It is imperative that you get an incident report from the premises where the fall happened. Inform the proprietor or request one from the employee in charge of creating incident reports. You will need this for your claim.
The incident report is an official record of the accident. It should include a description, date and time. Get your own copy for evidence.
4. Request Preservation of Evidence
Many slips and falls happen on commercial properties. Some of these stores have security cameras, but the footage is overwritten after 24 hours.
You should act quickly to get security footage as evidence. Your injury attorney can request this footage in writing, but at this point, it may be too late. Ask the proprietor to preserve evidence – including security videos and the hazard that caused the fall.
If you were injured on another person's property in Texas, contact the Robson Law Firm. You may be entitled to compensation for health-care bills and lost income, and making a claim could help other people avoid the same trauma.
An Austin injury attorney can investigate your accident, gather evidence and structure your claim. We have been representing the injured for more than 20 years. Call 512-345-8200 to schedule a free initial consultation.