Automotive technology is constantly evolving. Today, crash-avoidance systems, backup cameras and other innovations are saving lives. Despite these advances, the seatbelt remains one of your car's most effective safety features.
Seatbelts distribute the force of accidents, which can reduce the severity of injuries. They can also prevent occupants from being ejected.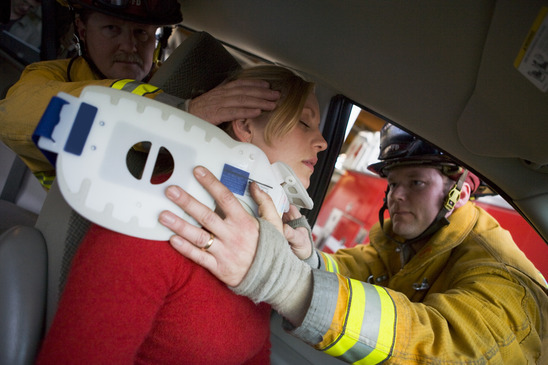 Car wrecks are leading causes of brain and spine trauma, but seatbelts can prevent overextension of the vertebrae. They can also protect the head from impacting the steering wheel, side windows or dashboard. Finally, seatbelts help your body match the speed of the vehicle, which can prevent brain trauma and whiplash.
Unfortunately, even the safest drivers are not immune to crashing. If you or a loved one was injured by a negligent driver, contact the Robson Law Firm.
An Austin injury lawyer can evaluate your crash, talk to witnesses and handle settlement negotiations on your behalf. Call 512-345-8200 today to schedule a free initial consultation.
Until then, read on to learn four ways seatbelts can prevent injuries and save lives:
1. Seatbelts distribute the force of a crash.
If you wear both a lap and shoulder belt, it will distribute the force of the impact across a wider area of your body. Some vehicles only come with lap belts, but without the shoulder belt, you are more likely to sustain an injury to the neck or lower back. However, a lap belt is better than nothing because it can prevent your head from hitting the steering wheel, side windows or dashboard.
2. Seatbelts keep occupants in the vehicle.
Your risk of dying in an accident increases dramatically if you are ejected from the vehicle. In addition to impacting the pavement, you may fall in front of oncoming traffic. A seatbelt can keep you secure inside the vehicle.
3. Seatbelts prevent injuries to the brain and spine.
Your head and back are particularly vulnerable in a car accident. A sudden impact can cause herniated discs, nerve damage and bone fractures. Traumatic brain injuries range in severity from minor concussions to life-threatening brain damage. Fortunately, a seatbelt may help you avoid these injuries.
4. Seatbelts help your body match the speed of the vehicle.
Even if your head does not impact a blunt object within the vehicle, you could still suffer a brain injury due to the abrupt drop in speed. A seatbelt can help your body match the velocity of the vehicle, which may help prevent brain damage.
Although a seatbelt can save your life, it will not protect you from all injuries – especially when other drivers are speeding, texting or otherwise behaving negligently. If you suffered an injury in a car accident that another driver caused, contact the Robson Law Firm.
An Austin accident attorney can help you avoid mistakes such as accepting a low settlement offer. We have recovered more than $26 million for our clients. Schedule a free initial consultation today by calling 512-345-8200.