Personal injury accidents can take many forms, ranging from minor slip and falls to serious wrongful death malpractice incidents. In Austin, Texas, some of the most common types of personal injury accidents involve roadway collisions. And with an escalating number of fatal car accidents in the city, a local police chief is calling for tighter regulations to prevent these devastating incidents from continuing.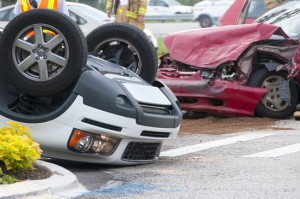 Though Austin sees a large number of serious and fatal auto accidents, a tragic collision that occurred in August was the last straw for Austin Police Chief Art Acevedo.
"This should not have happened, it didn't need to happen," said Acevedo.
Acevedo was referring to a devastating crash that involved a 26-year-old man and a 23-year-old woman. Both of these individuals were killed, and another woman also suffered critical injuries, following a head-on collision on Interstate 35.
The 23-year-old woman, Michelle Orduna, had been out celebrating a birthday, and like many, decided to have a few drinks. After the festivities, Orduna and a passenger, Megan Mendez (also 23), got into Orduna's car and proceeded to drive.
Due to intoxication levels, Orduna got on I-35 and was heading the wrong way on the interstate's southbound lanes. Shortly after, she collided head-on with a car being driven by 26-year-old Clayton Matthew Keller.
Keller died at the scene of the crash, while the women were transported to a local hospital with injuries. Mendez died the next day.
At the time of the crash, police were unable to perform field sobriety tests on Orduna due to her injuries. However, other tests revealed that her blood alcohol content (BAC) level was at 0.17 percent – over twice the legal limit in Texas of 0.08 percent.
Orduna has since been charged with intoxication manslaughter, a second-degree felony, and her bond was set at $100,000.
This incident marks Austin's 65th deadly traffic accident this year. Since January 1, 69 people have died in roadway accidents – up from the 55 fatal crashes that were reported in 2014.
Acevedo originally investigated the incident, and believed Orduna was intoxicated at the time of the crash. Unfortunately, it took some time for his hunch to be verified.
Though some car accidents can occur without any particular person being at fault, the vast majority are caused by driver negligence, which means that victims and the surviving dependents of those who are wrongfully killed have the right to file a claim with a personal injury lawyer.
Statistics show that alcohol is one of the main factors involved in Austin roadway collisions, but aside from alcohol, other negligent actions can also lead to serious personal injury accidents, including speeding, failing to yield to pedestrians, weaving in and out of traffic, and failing to look before changing lanes.