Texas law protects citizens from other people's negligence. If you suffer an injury due to another person's reckless behavior, then an injury attorney may be able to help you recover compensation to pay for medical expenses, lost income and other damages.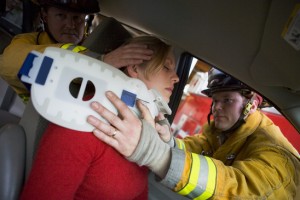 In personal-injury cases, several factors can influence a final settlement or judgment. It is likely that the insurance company will attempt to settle for as little as possible.
If your accident happened in Texas, then an Austin injury attorney can protect your interests. Call the Robson Law Firm at 512-345-8200 for a free initial consultation.
Until then, read on to learn seven tips that could strengthen your case:
1. Get a Police Report
A police report can demonstrate that the other party was liable for the incident. It can also provide important information such as the time and location of the accident.
2. Obtain Your Medical Records
Your case requires evidence of your injury, making it imperative that you seek medical attention as soon after the incident as possible. Without a medical report, the other party will dispute your injury and possibly even its existence..
3. Disclose Previous Injuries
If you suffered an injury before the accident, it is vital that you are honest about it. It is likely that the other party will dispute his or her responsibility for it, but you can prove how the accident made it significantly worse with your medical report.
4. Do Not Make Unguided Statements
In times of extreme emotion, such as an accident scene, people make mistakes that destroy their cases. Giving unguided statements is one of them. Be careful of what you say, even offhandedly, as others may believe it is an admission of guilt.
5. Gather Witness Testimonies
Witnesses are among the most valuable sources of evidence. You can use their testimonies to support your claim.
6. Collect Evidence
You need evidence to prove your claim of personal injury. If you are physically able at the scene, collect as much as possible, such as photographs, torn clothes and objects lying in the road. If you are too injured, then return to the scene later to gather evidence.
7. Create Safe Storage for Evidence
It is vital that you do not lose your evidence or crucial documents. You need well-kept records to calculate your settlement. Store documents and evidence safely, including lost income, paid invoices, days off work and other consequences of your injury.
Recovering damages from a civil lawsuit is rarely a straightforward process. Even if liability is obvious, the other party's insurance company may offer a settlement that is well below your expenses. This is why you should contact a personal-injury lawyer before entering discussions with insurance providers.
If you have strong, quality evidence of your injuries and the other party's liability, then there is a good chance that your claim will be successful. However, even a small mistake can threaten your interests.
The Robson Law Firm can help you navigate the legal system. Call 512-345-8200 today to schedule an appointment.