Speak to a Dedicated Truck Accident Attorney Today About Your Personal Injury Claim
It can be intimidating for drivers of smaller vehicles to share the road with 18-wheelers and other large trucks. The momentum of these larger vehicles means that any collision with them is likely to cause serious injury or death to drivers or passengers in smaller vehicles. Truck drivers themselves may contribute to the likelihood of such an accident occurring by cutting important corners when it comes to safety. The neglect of needed sleep, food, and vehicle maintenance or abuse of amphetamines and other illegal substances in order to stay awake on the road can mean serious consequences for other drivers. What's worse is that trucking companies are often willing to look the other way when it comes to this kind of negligence or misconduct because it benefits their bottom line.
At Robson Law Firm, we are a personal injury law firm with zero tolerance for drivers or trucking companies who are willing to sacrifice the safety of others for the sake of profit margins. Our clients know that we act swiftly and decisively in order to help victims protect their rights in the wake of accidents involving 18-wheelers or other large trucks.
Robson Law Firm has helped accident victims collect millions in compensation. We want to help you.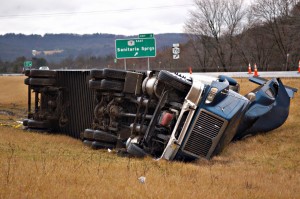 At Robson Law Firm, we have a track record of success when it comes to getting financial compensation for those injured in trucking accidents. If you have been seriously injured through little or no fault of your own due to a collision with a large truck, call a dedicated 18-wheeler accidents attorney today. We can be instrumental in helping you file a claim successfully and getting the maximum financial obligation to which you are entitled as an accident victim in the State of Texas.
A Proven Reputation for Success in Civil Litigation
When you work with Robson Law Firm to help you with your insurance claim, you're getting an ally who is happy to go to court on your behalf, if necessary, to fight for your interests. Most personal injury cases can be resolved before reaching the litigation phase, but in the event that your case does go to trial, you'll be represented by a truck accident lawyer in Austin who has a proven reputation for success in court on behalf of our clients. We get real results when it comes to financial justice. Damages awarded in personal injury cases can be used not only to address economic costs, such as medical bills and lost income associated with an accident, but also factors such as a victim's pain and suffering. Call Lawyer Robson Law Firm in Austin today to give yourself a fighting chance when filing a personal injury claim after a accident. We'll be with you as long as you need us.
Call (
512) 345-8200

 today to speak with an aggressive Austin truck accident lawyer.