A slip and fall can cause debilitating injuries that cost a veritable fortune to treat. Some victims cannot return to work, and the lost income jeopardizes their financial security. If a fall happens due to the negligence of a business owner or manager, though, the victim may be entitled to compensation for medical expenses, lost wages, and other damages.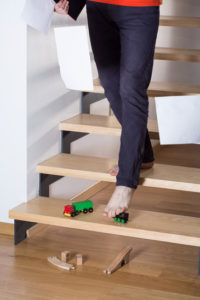 If you were hurt in a slip and fall, it is imperative that you take steps to protect your rights. One misguided statement or action could prevent you from recovering fair compensation.
One of the most common mistakes people make after these injuries is waiting too long to contact an accident attorney. There are important steps that you must take immediately after a slip and fall, such as notifying the business owner, undergoing a medical evaluation, and gathering evidence to prove liability, negligence, and the value of your damages. If you overlook just one of these steps, you might not be able to recover a fair payout.
If your slip and fall happened in Texas, turn to The Robson Law Firm. A personal-injury lawyer in Austin will evaluate your case to determine if you have grounds for a claim.
Call 512-345-8200 today to schedule a free consultation. You can also visit USAttorneys.com to learn more about personal injury lawsuits in Texas.
8 Steps to Take Immediately after a Slip and Fall
The Centers for Disease Control and Prevention estimates that 20 percent of falls cause a serious injury such as a broken bone or brain trauma. Victims are often sidelined from work for several weeks or even months while they recover.
Although no amount of compensation can undo the pain and inconvenience of such an injury, it could help your family maintain financial stability. These eight steps may help you recover a fair payout:
Evaluate Yourself for Injuries: Sometimes the symptoms of a serious injury take several hours or days to develop. If you notice minor neck or back pain, it is best that you expect the worst and take steps to prepare for making a personal injury claim.
Call the Police: Even if your injuries do not seem that serious, it is a good idea to contact law enforcement. Ask the officer to create an incident report that documents your injuries, the location, the cause of the accident, the time and date, and other important details. This report will be important evidence if you decide to make a personal injury claim.
Talk to Eyewitnesses: Record the phone numbers, email addresses, and contact information of any eyewitnesses. Your accident attorney may use their testimonies to support your claim.
Report the Incident to the Store Manager: File a written incident report to document the accident.
Take Photos: Take pictures that show your injuries and the hazard that caused them.
Request CCTV Camera Footage: If you notice CCTV cameras, request to see the footage. Record the video on your camera, and ask the store manager for a copy.
Visit Your Doctor: It is important that you do not give the insurance company or storeowner any reason to claim that you are neglecting your medical treatment. This could reduce the amount of compensation you ultimately recover.
Consult an Accident Attorney: A personal-injury lawyer will answer your questions, gather evidence, handle correspondence with insurance adjusters, and help you avoid costly mistakes.
If you were injured in a slip and fall, contact an Austin personal-injury lawyer from The Robson Law Firm. Call 512-345-8200 to schedule a free initial consultation.