According to NBC4i, the woman whose vehicle plummeted seven stories out of a parking garage last month has filed a personal injury lawsuit against the facility where the incident occurred. The Texas woman sustained severe injuries when she pulled into a parking spot and accidentally hit the gas, which sent her vehicle through the garage's cable barriers and over the edge.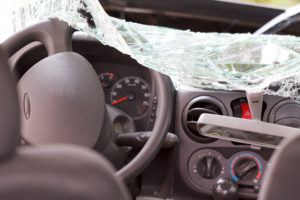 The car fell on top of a Chevy Tahoe parked on the ground next to the facility before it rolled over onto its roof. This is not the first incident of its kind to happen at the open-air parking garage, which is why the woman believes she has grounds for a claim.
Last September, an SUV drove over the edge on the ninth floor, where it hung suspended by a wire. Fortunately, in that case, the driver was able to climb back to safety.
Now, the woman's attorney is arguing that the parking garage should have updated its cable barrier system after that incident. Because of the facility's alleged negligence, she is seeking $1 million in damages. The facility has claimed that after the other accident, they brought in a structural engineer to repair the barriers, and the city allegedly deemed the work sufficient.
If you sustained debilitating injuries because of someone else's negligence, you may be entitled to compensation to pay for medical bills, lost wages, and other damages. To discuss your case with an Austin personal injury attorney, contact the Robson Law Firm.
We will investigate your accident, gather evidence, and help you fight for the maximum settlement. Call 512-345-8200 to schedule a free case evaluation with an accident lawyer.
How Do You Calculate a Fair Settlement Amount for Your Personal Injury Claim?
The woman in the case above sustained serious injuries, including broken ribs, a fractured sternum, and a fractured scapula, which contributed to the value of her claim. In addition to medical bills, her claim for $1 million likely takes into account lost wages, rehabilitation costs, and pain and suffering.
There are two kinds of damages that accident victims typically pursue by filing an injury claim: special compensatory damages and general compensatory damages. Special damages refer to the actual costs that the plaintiff incurs as a result of the accident. They might include:
Lost wages;
Loss of future earnings;
Medical expenses;
Physical therapy;
Household expenses; and
Costs associated with altered plans like cancelled trips.
Special damages are fairly easy to calculate because they are actual costs. General damages, on the other hand, are non-economic damages like mental anguish, pain and suffering, and loss of consortium or companionship.
Calculating general damages is challenging because there is no tangible way to measure them, but your personal injury attorney can help you devise a fair amount. One of the simplest ways to determine these costs is by multiplying the total amount of special damages by a specific factor, which typically ranges from 1.5 to 5.
If you were hurt in a car accident that was not your fault and you want to recover compensation for your damages, contact the Robson Law Firm. Call 512-345-8200 to schedule a free consultation with an accident lawyer in Austin. You can learn more about personal injury claims in Texas by visiting USAttorneys.com.