AUSTIN, Texas. CNN reports that the number of brain tumors reported in England has been on the rise. The number of people diagnosed with glioblastoma has doubled in recent years, raising concerns about whether cell phone use could be the cause. The time span for the increased rates of incidence coincides with increased cell phone use in the country. When the researchers considered possible causes of the increased rates, cell phones were listed as a possible culprit.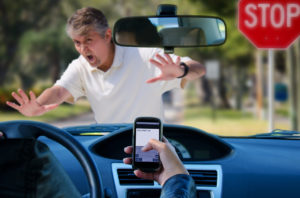 While the study is surely alarming, before you toss out your cell phone, you might want to consider the more immediate danger and risk of texting and driving. According to the National Highway Traffic Safety Administration, the number of people killed by texting and driving was 3,450 in 2016 alone. Another 391,000 people were injured in 2016 due to distracted driving related to texting and driving. When you compare these numbers to the numbers of brain tumors diagnosed each year, it really puts the danger in perspective.
According to the National Brain Tumor Society, 77,670 people were diagnosed with a brain tumor in 2016. Far more people are injured due to texting and driving accidents than are people newly diagnosed with brain tumors. Even if a small percentage of these tumors could be linked to cell phone use, texting and driving appears, at least at present, to pose a more immediate and concrete danger to cell phone users.
Researchers continue to study the potential link between cell phone radiation and brain cancer. Studies regarding the risk remain inconclusive. There is concern that the tissues, like the brain and the face, might be absorbing cell phone energy. Take this concern and couple it with increased cell phone use as well as longer phone calls, and some doctors have indeed noted a reason to closely watch the research.
Overall, brain cancer rates have been on the rise, but cell phones might not be the only culprit. An increase of radioactive substances in the environment and even radioactive fallout have also been blamed.
So, what can you do if you are concerned? For one, you can use your phone hands free, and keep it away from your head.
Still, the most important thing you can do to increase your safety regarding cell phone use is by putting away your phone while driving. Texting and driving is incredibly dangerous and can result in car accidents, injuries, and even deaths. If you or a loved one has been hurt in a texting and driving accident, consider reaching out to the Robson Law Firm, car accident attorneys in Austin, Texas. Our firm can review the circumstances leading up to your accident, review your claim, and help you fight for the recovery you may deserve under the law. Car accidents stemming from texting and driving can be incredibly costly to victims and their families. Visit us at https://robsonlawfirm.com/ to learn more about your options.
Robson Law Firm
1114 Lost Creek Boulevard
Suite 440
Austin, TX 78746
Phone: (512) 345-8200