Cocktails and Christmas go hand in hand, and even those who do not drink often may find themselves sipping champagne on New Year's Eve. As long as you can consume alcohol responsibly, there is nothing wrong with indulging over the holidays.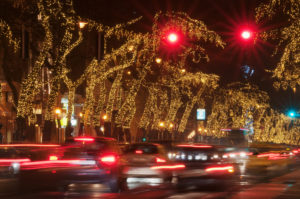 Unfortunately, some people do not prioritize drinking responsibly, and when such individuals get behind the wheel while impaired, they are rarely the only ones who must deal with the catastrophic consequences. According to the National Institute on Alcohol Abuse and Alcoholism, 40 percent of all fatal collisions that occur during the holidays involve an impaired motorist.
If you were hurt in a car accident with a drunk, distracted, or otherwise reckless driver, you have the right to file a personal injury claim against the negligent party. If you have a strong case and enough evidence to back up your claim, you may be able to hold the liable party financially accountable by securing a settlement that covers the damages incurred.
Since personal injury proceedings can be complicated and hurdles are likely to arise along the way, it is wise to seek legal counsel from the start. Contact the Robson Law Firm to discuss your case with an Austin accident lawyer and determine the best way to proceed.
We have been representing the injured for more than 20 years. Call 512-345-8200 to schedule a free case evaluation.
Read on to learn how you can reduce the risk of getting into a drunk driving collision over the holidays:
Hire a Car Service
If you want to ring in the New Year in style, why not go in on a limo or party bus with a group of friends? Depending on how many people the vehicle seats, you might actually end up saving money by hiring a luxurious car for the night instead of relying on a taxi service to take you everywhere—and no one has to worry about driving.
Stay in and Celebrate
The only foolproof way to avoid a drunk driving collision is to stay off the roads entirely, so why not do just that by staying in and hosting a party at home? If you can provide sleeping accommodations for your guests, you will have peace of mind knowing they will be safe at the end of the night, too, and you can all start off 2018 right with a hearty brunch the next morning.
Know the Signs of Alcohol Impairment
People drink and drive at all hours of the day and night, but there are certain times at which the roads tend to be more dangerous. For example, you should always be wary of driving in the early hours of the morning because impaired individuals are likely to drive home after last call.
You should also be careful when hitting the road after all the holiday parties have ended. If you must travel when drunk drivers are likely to be out, stay alert and look for signs of impairment—swerving, drifting out of the lane, driving erratically, ignoring traffic signs—so you can keep your distance if necessary.
Sadly, not all drunk driving accidents are avoidable. If you were in a collision with an impaired motorist who seemingly came out of nowhere, contact the Robson Law Firm for quality legal guidance during the claims process.
Call 512-345-8200 to schedule a free consultation with an injury attorney in Austin. If you want to learn more about drunk driving claims in Texas, visit USAttorneys.com.