KXAN reports on a recent pedestrian accident that sent a man in his 40s to the hospital with life-threatening injuries. The crash occurred just after 6 a.m. near the intersection of Chaparral Trail and East Stassney Lane.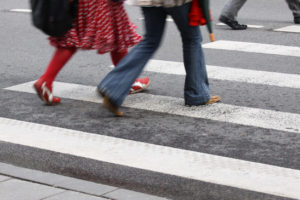 The victim was transported to South Austin Medical Center for treatment. The cause of the crash is still under investigation.
This collision is a tragic reminder that pedestrian accidents are likely to end with severe injuries. According to the Centers for Disease Control and Prevention, 4,735 pedestrians died in traffic wrecks in 2013. That means one pedestrian died every two hours. That same year, at least 150,000 pedestrians were sent to the emergency room with traffic-related injuries.
If you were hurt in a pedestrian crash, contact the Robson Law Firm. You may be entitled to compensation for lost wages, healthcare bills, and non-economic damages.
Our lawyers have recovered more than $26 million for our clients in successful settlements and verdicts. Call 512-345-8200 to schedule a free initial consultation with an injury attorney in Austin.
4 Tips to Help You Avoid Pedestrian Accidents
Whether you're crossing the road or walking to your car in a parking lot, a pedestrian accident can happen at any time. Although some of these crashes are unavoidable, there are steps you can take to reduce your risk. The following four strategies are particularly effective:
Use Crosswalks Whenever Possible
Drivers do not expect pedestrians to cross in the middle of the road. Using crosswalks will help you avoid accidents because motorists tend to be more alert for pedestrians at intersections.
Avoid Distracted Walking
It's no secret that distracted driving is dangerous, but distracted walking can be just as deadly. Data from the National Safety Council shows that distracted walking caused more than 11,100 injuries between 2000 and 2011.
Wear Reflective Clothing
If you jog at night, remember to wear reflective clothing and a headlamp to help drivers notice you. You should also stay on sidewalks and avoid high-traffic routes.
Make Eye Contact with Drivers
Just because you have the right of way does not necessarily mean that a driver will yield. You can ensure that drivers have seen you by making eye contact.
Unfortunately, even the most diligent pedestrians can fall victim to distracted, drunk, and negligent drivers. If you were injured in a pedestrian crash, contact the Robson Law Firm to discuss your case.
Our attorneys have a reputation for tough litigation and a strategy for winning substantial settlements and verdicts for our clients. We will help you navigate the claims process and avoid costly mistakes such as accepting a settlement too early, overlooking future damages, or making a recorded statement to the insurance adjuster.
Call 512-345-8200 to schedule a free initial consultation with an accident lawyer in Austin. If you would like to learn more about car accident claims in Texas, visit https://usattorneys.com/accident/texas/.